Koninklijk Zeeuwsch Genootschap der Wetenschappen
18 mei 2018
10.00-17.00 uur
"BARBARA ZELANDIÆ INSULA"
Zeeland in the world history of knowledge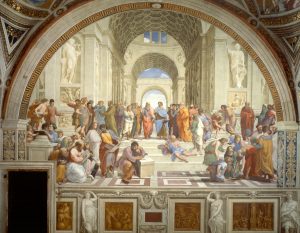 Raphaël, The School of Athens (Stanza della Segnatura, Vatican, Rome), 1508
Sixth Hurgronje Symposium
ZB Library
May 18, 2018
"BARBARA ZELANDIÆ INSULA"
(Paul of Middelburg, Epistola apologetica ad doctores Lovanienses,
dated Middelburg, February, 1488)
The arts & humanities as they are currently taught at University College Roosevelt descend from the liberal arts (artes liberales) and the sciences (scientiae) of the intellectual traditions of the European Middle Ages and of humanism, which were rooted in the (ancient) traditions of the Mediterranean world. Today they include among others the study of languages, history, and art history, philosophy, theology, religious studies, and musicology, disciplines that are all taught at UCR. The modern liberal arts and sciences are the result not only of a continuity of tradition, but also of the major ruptures that occured with the rise of the new science (during the so called Scientific Revolution) and the rise of the modern disciplines and the modern research university (which coincided with the second Scientific Revolution). They are also the result of the major leaps in technological abilities of the Industrial Revolutions and the revolutions in communication technologies of the 19th through 21st centuries.
In two courses, the World History Research Seminar and the Capstone-course Global Humanities, both taught at University College Roosevelt, students have explored the role of knowledge and information in shaping the (early) modern world, looking back from the perspective of our own, so-called postmodern, post-industrial age of the knowledge society. Students of the World History Research Seminar have again studied how knowledge is created from information to acquire orientation in and control of the world using cases from or related to (early) modern Zeeland. Students of the capstone course Global Humanities have studied aspects of the (early modern) Scientific Revolution. The course has focused in particular on the role of the Middelburg-born natural philosopher Isaac Beeckman (1588-1637), who is believed to have been one of the first to shape the methods of the (new) mechanical philosophy. This year is the anniversary of his famous encounter with the French philosopher René Descartes in Breda in 1618.
Using sources from the Zeeuws Archief, the ZB Library, and elsewhere, students have tried to increase our understanding of the role of information, knowledge, and science in (early) modern societies. In so doing, they are continuing and building on traditions of learning from all over the world, but also in and of Zeeland and Middelburg, despite the mockery of the 'barbara Zelandiae insula' by the other (then) famous son of Middelburg, the philosopher, mathematician, astronomer and theologian Paulo di Adriano or Paul of Middelburg (1446-1534), who may or may not have been portrayed as the modern astronomer in his friend Raphaël's fresco 'School of Athens' (1508) in the Vatican library in Rome.
Please register before May 16, 2018 by sending an email to: a.vandixhoorn@ucr.nl.
Location: ZB Library, Kousteensedijk 7, 4331 JE Middelburg (entrance is free)
Symposium Program
Morning sessions: Speaking of knowledge
10.00-10.20
Arjan van Dixhoorn     Zeeland in the World History of Knowledge
10.20-10.35
Eline Suverkropp          The Voyage to Knowledge: The Travels of MCC Captains Anthonij Laarman and Jan Vergouwe to the Spanish West-Indies in 1736 and 1742
10.35-10.50
Tom Leijnse                 Knowledge and the VOC China Committee's Management of the China Trade (1756-1764)
10.50-11.05
Tim Beelen                  Like a Butterfly: the Transition Period of the MCC (1800-1840)
11.05-11.20
Yari Syed                     Servaes van de Coppello: the Studies of a Medical Doctor in 18th Century Middelburg
11.20-11.35
Anna den Hollander      The Invention of Machines and the Culture of Experimentation in Early 18th Century Zeeland
Coffee Break               11.35-11.50
11.50-12.05
Lisanne den Hartog       Learned Societies and Knowledge Networks: Archaeology and the Zeeuwsch Genootschap der Wetenschappen in the Early 20th Century
12.05-12.20
Rayke van Lent            Creators of Knowledge: Elize Baart, Marie de Man and Henriëtte van der Mey in the Women's Movement of the Late 19th Century
12.20-12.35
Silvano Bart                 Institutional Compliance in the Persecution of Jews in Middelburg in the Early 1940s
12.35-12.50
Joël van Aalderink        Managing Discourse: the Information Network of the Vereniging Milieuhygiëne Zeeland (1969-1984)
12.50-13.05
Abel Vroegop              Walcheren as Naval Military Technology Hub: Dual-use Technology Transfer into 20th Century Zeeland
Lunch Break               13.05-14.15

Afternoon sessions: Speaking of Beeckman
14.15-14.30
Meerten Zegers                         Drawing the Link between Art and Science in the Early Modern World
14.30-14.45
Sarah Varga van Kibéd
en Makfala                              The Sublime in 17th Century Dutch Flower Still Lifes
14.45-15.00
Joël van Aalderink                    Artisan, Rhetorician, Scientist: a re-assessment of Isaac Beeckman
15.00-15.15
Bram van Overdijk                   Finding Lime Street: Isaac Beeckman and the Republic of Letters in Middelburg
Tea Break                              15.15-15.30                
15.30-15.45
Sebastiaan Frankes                   The Road to Equal Temperament
15.45-16.00
Cambria Collins                      Enlarging History: Interactions in the History of Science
16.00-16.15
Semra Meray                            What's in a Language? Dutch and Latin in Isaac Beeckman's Journal​
16.15-16.45
Bram Medelli & Eric Verkade  Isaac Beeckman and the Philosopher's Candle: the Movie
ZB, Kousteensedijk 7 - Middelburg